SP-4 L.P. Zimmerman
The story about Stacy´s father


This is the legacy of the Vietnam War....The following is an early email I sent to my father when we reconnected our lives last year. Today I am 43.

Did I want you as a father?

Those dolls...remember? Those dolls you gave me...oriental. One was porcelain, wearing a red kimono, short, straight black hair, and her eyes would open and shut respective to whether she was laying down or standing up. The other was standing. A grown woman wearing a dark blue shimmery top and hot pants. She had her dark, curly hair piled up with ringlets coming down and dangling earrings.

I do not remember a time they were not in my room. They were sacred to me because you had given them to me. I didn't play with them much. I didn't want to mess them up.

I have a picture of you. It was professionally done. You are wearing a olive green shirt. Your hair is down over your ears but nicely combed. You had written inside in pencil. I used to sit in my room and stare at you. From my child eyes, you were elevated past God. I put you on so high a pedestal, thank God you never had to try to attain it.

I had those damn dolls in my bedroom until a dog, I forget which one, chewed them to pieces. I almost killed that dog. I was in my twenties. It didn't get your picture though, I still have it and I know exactly where it is.

When I was little, oh God, I so wanted you to come take me away. In my preteens, you were still magical and mystical, but I didn't know you. You came to visit and I looked forward to it. I knew you were my dad, but I didn't know you.

I so wanted your approval. I so wanted your acceptance. I made good grades. I ran track. I tried to show you just how good of a kid I was. If I'm good enough....

Stacy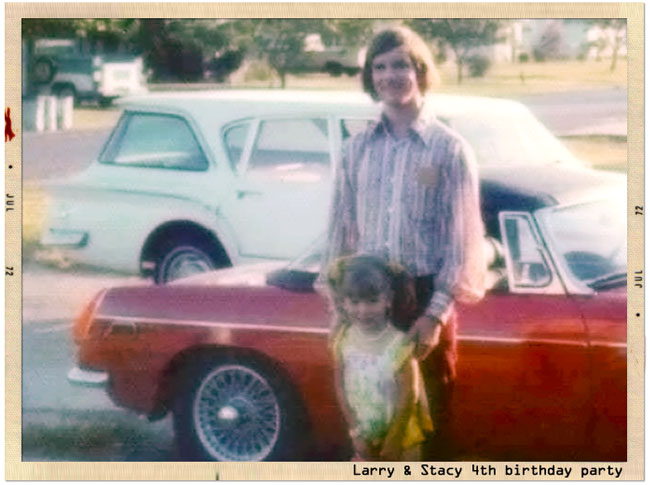 --------------------------------------------------

Dear Stacy

You were too young to remember or maybe not.....I remember seeing you with my oldest sister when I returned from across the sea....I wanted you more than my life right then but I could not show you the love you needed. I had failed with your Mother and that ruined me....I did not believe I would ever love someone. I knew in my heart that you were better off with your Mother than me. I did not try to take you away....I had nothing to offer. I was cold inside my heart only pumped blood no passion. My mind has been confused and blocked to love for most of 63 years ..... I have been holding my Love for you ever since that day I really met you for the first time with love at the Wichita AirPort...I was a stranger to you at that time....you were so very cutie pie and sweet. I hope that somehow I can make up for at least a little for my total failure as a father to you. Thank you for reaching out to me.... that has done to me what is impossible to describe. I have had a gaping hole in my chest for all these years...perhaps you can help me heal that destroyed part of me?

Father Larry

We exchanged a flurry of emails, exchanging more words than we had in the previous 40 years and then I sent him this email:

Do you know the names of your great grandparents? Tell me the story about the watch you gave my mother. You are retired now so I figured you have lots of time on your hands and you might even be a little bored, but correct me if I am wrong. Tell me about Vietnam. Stuff like the people you met there and the food and it was hot and funny things that happened and when you were scared and how you got the purple heart. Mom says you got a little piece of shrapnel in your leg. How did that happen? Where on your leg ?

He replied with, "It will always be Siagon to me..."